Introduction

Sukhan-e-Dil (Poetry of Heart) is a humble contribution to the world of Hindi and Urdu poems (Ghazals) that express a journey of emotions. These emotions describe what many people feel in day-to-day lives – from love to hatred, from peace to distress and from completeness to void. Indeed, these are all part of life and what makes everyone alive! Sukhan-e-Dil brings words to these emotions. It may also tickle those memories that one may think were lost long back. And hopefully, these Ghazals will help you get closer to life.
Sukhan-e-Dil is available worldwide in both print as well as eBook format.
(Worldwide)
(eBook)

(For India)
(Paperback)

(For US)
(Paperback)

(For UK)
(Paperback)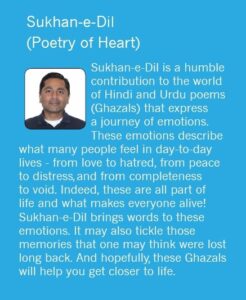 The story of Sukhan-e-Dil
The journey of Sukhan-e-Dil began much before I realized. When I was growing up as a kid, Ghazals were not the most common form of poetry around. However, my deep love for Hindi and Urdu always sought ways to find Ghazals. In a sense, I always had a connection with Ghazals. Listening to the radio, waiting for the specific broadcasts on Sundays was something I always looked forward to. Yes, 70s Hindi music are my most favorites (or favourites for many of us who studied British English in school).
As a natural progression, albeit gradually, I started expressing my feelings through Ghazals. In this process, I tried to learn more Urdu and Hindi from wherever I could. This in turn, made me fall in love with these languages even more. The simplicity and sweetness of Hindi have always touched me. I have always been pleasantly surprised by the immense vocabulary and richness of Urdu. And, I could see this even with my meager knowledge.
Then I met 'Deepak Da', who had the same passion for Hindi, Urdu, and Ghazals. In no time did we bond very closely, but we realized our love for these gave us a unique feeling; something we had never felt before. We could be sitting together for hours listening to Ghazals, not uttering a single word, with smiles on our faces, as if time has stopped. We used to hear from old Hindi songs of Rafi Da, Kishore Da to maestros like Mehdi Hassan Sahib and Jagjit Da.
The lyrics and poetry touched me. In particular, Mirza Ghalib's Shayari (compositions) always lead me to believe that he was not just a great poet, but a great philosopher too. There are so many gems like him whose brilliance we have hardly realized and there are other gems who were perhaps not even noticed. One such gem that I deeply admire is Sudarshan Fakir Sahib. He has written some amazing Ghazals. Often his Ghazals used very simple words, but his poetry would touch my heart deeply.
Seeing the magnum opus of such brilliant minds made me feel humble. I felt fortunate that I was able to see and understand to some extent their work in this era. I do not know what would be the future of Ghazals. But, I did want to make my small contribution to this wonderful world of Ghazals. These Ghazals helped me express my emotions. And hopefully, these will help you connect with yours!
Preview
The following is a preview of Sukhan-e-Dil.